This week marks the formal launch of MaRS Studio Y's Cohort IV, which brings together the fourth group of exceptional young people to undertake fellowships in our trailblazing leadership program.
We're betting that we have found 25 of Ontario's best and brightest young people to participate in this year's eight-month session. Although their interests and backgrounds are highly diverse, all are united by a deep commitment to building our economy while creating positive social change.
Studio Y is where these skills are developed. We strongly believe that these young innovators will help create dynamic, powerful forces for social and economic good, bringing about the change that Ontario and Canada so urgently need.
This focus on leadership through work-integrated/experiential learning makes our fellowship uniquely positioned to build the next generation of young innovators and entrepreneurs. We are investing in young people who can affect change at a systems level, through our systems leadership curriculum and via applied projects with industry experts.
Our curriculum has four main streams: understanding systems change; leading change work; connecting across sectors; and innovating to solve problems. Studio Y fellows apply the curriculum to projects addressing trends in the future of health, energy and the environment, work and learning, advanced manufacturing, finance, and law.
Studio Y also supports the fellows by providing connections to industry experts, mentorship from established leaders and dedicated leadership coaching. Some of our fellows choose to deepen their applied learning through placements in the MaRS ecosystem. The new residency model of the program affords fellows the opportunity to collaborate on issues that affect many regions of Ontario.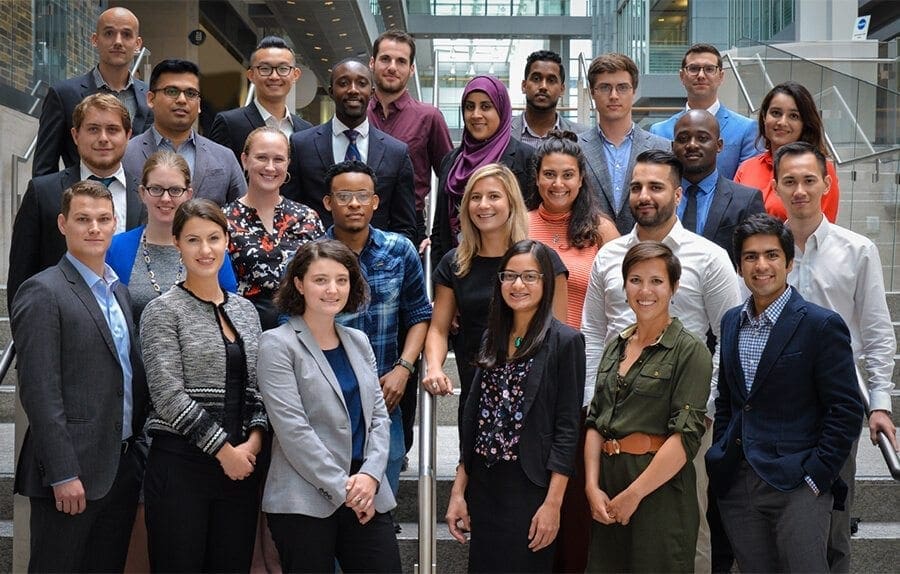 Here are a few of the exceptional young people who make up this year's fellowship:
Sayanthan (Sai) Ravindranathan is a health-services business strategist with the Ontario Renal Network at Cancer Care Ontario. He comes to Studio Y with a bachelor of science degree from the University of Toronto and a master of business administration from McMaster University's DeGroote School of Business. Sai is also a certified project management professional.
Kelly O'Neil is an entrepreneur who is passionate about sustainable business and technology. Already a senior manager at TD Canada Trust, Kelly has a bachelor of science in engineering chemistry from Queen's University and an MBA from Harvard Business School.
Daryl Dominique is a Sudbury-based mechanical engineer and manufacturing entrepreneur. He is the founder and CEO of Hexic Monitoring Systems and the co-founder of CMD Prototyping.
Kathleen Coulter is a policy advocate for sustainable development and environmental justice who has a dual law degree from the University of Alberta and the University of Colorado.
A full list of profiles for Cohort IV fellow can be found on the Studio Y website.